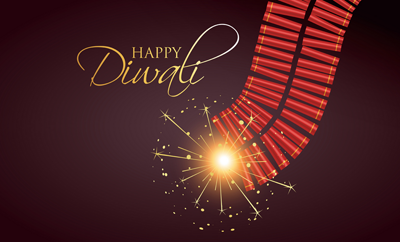 If you wish to give pleasant surprise to your friends, family, colleagues by sending them awesome Greetings, wishes SMS on this Diwali then you are at right place. Diwali or the "festival of lights" is an ancient Hindu festival celebrated in autumn every year. The festival spiritually signifies the victory of light over darkness, knowledge over ignorance, good over evil, and hope over despair. We are sharing the best collection of Diwali SMS in English that you can send to your loved ones through SMS. Diwali is an important festival for Hindus. The name of festive days as well as the rituals of Diwali vary significantly among Hindus, based on the region of India. You shall use our Promotional SMS services to send Diwali Greetings to 1000's of people in matter of seconds, with your own Branded Sender ID like, LM-DIWALI, LM-KARTIK, etc
#1
May the Divine Light of Diwali Spread into your
Life Peace, Prosperity, Happiness and Good Health.
Happy Deepavali
#2
Holy is colourful.
Sun is powerful.
Dewali is lightful.
#3
With Gleam of Diyas,
And the Echo of the Chants,
May Happiness and Contentment Fill Your life !
Wishing you a very happy and prosperous Diwali !!!
#4
Troubles as light as Air, Love as deep as the Ocean,
Friends as Solid as Diamonds, Success as bright as Gold…
These are the wishes for you and your family on the eve of Diwali.
Diwali ki Shubhkamana!
#5
This Is To Formally announce that I have started accepting Diwali gifts by CASH, CHEQUES & CREDIT CARD etc. Avoid last day rush. Send now !
#6
May The Millions of Lamps Illuminate Your Life With Endless
JOY, LOVE, PROSPERITY, HEALTH, WEALTH AND HAPPINESS.
Wish u and your family a HAPPY DEEPAWALI
#7
May your life shine like light,
May your happiness be like sparkles,
May your sorrows be bursted,
Let your light shine,
A VERY HAPPY DEEPAVALI TO ALL
#8
With my
1 heart
2 eyes
7 liter blood
206 bones
4.5 million red cells
60 trillion D N A"S…
All wishing you a very very
HAPPY DIWALI!
#9
On this auspicious
Festival of lights
May the glow of joys
Prosperity and happiness
Alluminate your days
In the year ahead
HAPPY DIWALI.
#10
Let this diwali burn all your bad times and enter you in good times!!
Wishing u and ur family a happy deepavali 😉
• ˚ •˛•˚ * 。 • ˚ ˚ ˛ ˚ ˛ •
• ˚Happy★* 。 • ˚ ˚ ˛ ˚ ˛ •
•。★diwali!★ 。* • ˚。
° 。 ° ˛˚˛ * _Π_____*。*˚
˚ ˛ •˛•˚ */______/~\。˚ ˚ ˛
˚ ˛ •˛• ˚ | 田田 |門| ˚

While most Network operators have premium charges on the festive day, our services are comparatively too low cost and so you'll save quite a lot of money in wishes your loved ones on the festive day 🙂